There was a time last summer when I was obsessed with tinted lip balms. I wanted to find something I could wear out of the house every day, whether I was getting fully gussied up or not, just so I didn't feel completely naked. I'm not opposed to leaving the house while wearing no makeup; however "no makeup" for me is defined as a coat of mascara and a swipe of eyeliner at the very least. So I wanted to add something to the routine that wasn't as serious as a lipstick, not as sticky as a lip gloss, and nicer-looking than just plain old lip balm, which can just leave my lips looking waxy and dull.
Enter the dreamy commercials for CoverGirl's NatureLuxe line of cosmetics, featuring lots of green, wispy scarves (included on the line's packaging!) and green, wispy songstress Taylor Swift.
Not pictured: Taylor Swift.
I'm not really a fan of T-Swift (I think her songwriting capacities are vastly overrated) but I do think she works rather well as a spokesgirl for this line. She boasted the products' "light-as-air-feel" and a lack of "heavy synthetics." She herself also happens to be fairly light and breezy, without a whole lot of... well, substance (zing!). I, being a fan of products that have a light feel, decided to give their Gloss Balm a try. It even says right on the tube: "luxury touched by nature." Who wouldn't love that?
The
GoodGuide page
for this product is reassuring, if you dig a little deeper and expand the ratings categories. While upon first glance, Covergirl only gets a 6.0 in the Health category, expansion reveals that
this product
actually gets a rating of 10 for containing no ingredients that raise a health concern
. Success! A product that doesn't contain a bunch of useless junk. A hover over the little question mark next to the rating for "ingredient disclosure" reveals that since Covergirl isn't too great about including all of a product's ingredients on their labels, they cap the rating at 6.0. Still, it feels good knowing that the only questionable ingredient in this product is Octinoxate, which provides the SPF factor, and is only questionable since it has apparently been banned in Japan. This doesn't worry me, because Japan tends to allow many things that should be banned (underwear-filled vending machines top that list) and thus doesn't really influence my decision-making.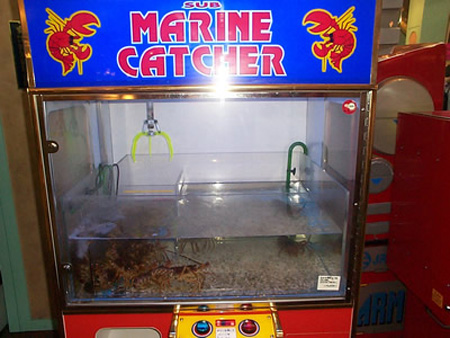 Also: a machine which vends lobsters. WTF Japan?!
On to the consumer experience. The packaging is extremely cute. Tiny and light green in colour. A satisfying click exudes as you turn the dial to extend the product. And the product itself looks nice as well. I decided on colour 215: "Hibiscus." It's a nice pink that isn't too bubble-gum and not too dusty rose, if you know what I mean. It smells delightful, and glides on smoothly with no tugging. There is no taste (which is fine; I'm not 8). It feels smooth, not slimy, and not sticky. The colour is true upon application, and there was no issue with misleading colour swatches since you can see the product right through the packaging (I have a massive beef with misleading colour samples, as I'll rant about in my next review on Burt's Bees tinted lip balm). The price point is a bit high, as one 1.9g tube will set you back $9.49 at Shoppers Drug Mart. However I did find that it lasted me about 3 months, even with regular (almost obsessive) use. If the price is a deal-breaker for you, it is available at a discount through
Amazon.com
at about $5.99 (and even down to $3 if you're willing to gamble on third-party sellers).
The balm is a bit thin, which is great for a weightless feel, but wouldn't hold up on my lips after having a single drink or a smooch. The solution to this problem of unreliable colour is lipliner. This stuff used to be something I only wore in one colour: red. It was for use on a single occasion: to be paired with my getting-seriously-gussied-up red lipstick. But since I just love the colour of this gloss balm, and how it smells, and feels, and the fact that it has an SPF factor of 15 (gotta protect these babies!) I sometimes want this colour to last a tad longer than an hour or so. And so I have been pairing it on such occasions with Annabelle lipliner in 010 "Natural Rose" to make the dream last a little longer. Since GoodGuide doesn't seem to have any knowledge of Annabelle's cosmetics line, I can't really do a full write-up on it. But since I've decided to include it, I will mention that it goes on smoothly, doesn't tug, and is firm enough that it doesn't just squish into your lip when you try to put it on. And it's pretty long-lasting. Problem solved!
So admittedly, I've had to step up my "no makeup" routine ever-so-slightly. It now includes mascara, eyeliner, gloss balm, and sometimes lipliner. Perfect for those outings for which I don't have to make the effort to wash my hair, but still want to look decent since I'll have to be speaking with people (I don't want to terrify the occupants of my teeny-tiny town). Like trips to the grocery store. Or the post office. Or the bank.
Hooray for looking decent! Of course, there will always be days on which I
really
don't care, and will walk out of the house with
absolutely nothing
on my face. But those days are gradually decreasing as I continue to realize that most of the time, I like being a girl, and it's fun to play with colour and actually use all these products I continue to buy compulsively. Hopefully this gives you a better picture of this product and whether or not it's right for you. Happy shopping!